Proofreader - the effective tool for sending reports about typos on the site
The Proofreader extension for Joomla allows site visitors to report the administrator about found typos on the site.
The site visitor is able to select found typo by mouse and press the key combination Ctrl+Enter to send the message to site administrator. After this the popup window will be shown and he will be able to write some comment about found typo. The report about typo will be available in administrators panel and the e-mail notification will be sent to administrator.
Features
Uses the AJAX to send the report without reloading the current web page
Sends e-mail notifications to administrator
Supports the spam protection by Joomla's CAPTCHA
User can post comment about found typo
Translations
We are using Transifex.net service to translate the Proofreader. If you found any error in translation or your language is missed — join our Proofreader translation project on Transifex and help us to improve translations.
Compatibility
The Proofreader is fully compatible with Joomla 3.x and Joomla 2.5.
License
The Proofreader is Free Software and is distributed under the terms of the GNU General Public License.
ProofReader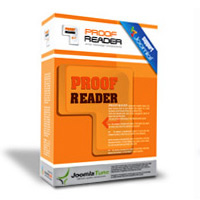 Documentation